Physical to digital — and everything in between
We provide intuitive management and delivery of your physical and digital assets worldwide.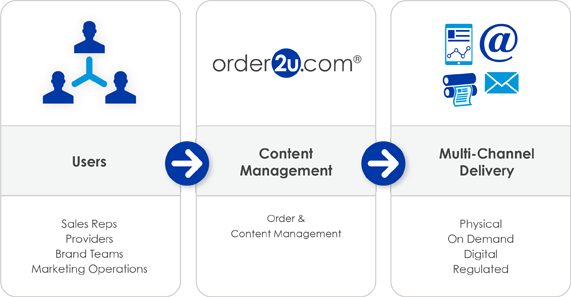 ORDER MANAGEMENT
order2u.com® is a responsively designed platform that easily enables you, your sales reps, and home office to search for content, order materials, create custom resources, and access information on new/featured items. Multiple levels of security are available employing user's login credentials to determine site access, searching/ordering privileges, and reporting ability.
order2u.com® is also available as a mobile app. With just a few taps, iPad users can quickly and efficiently order digital and physical assets, providing seamless integration with the web-based portal by using the same system interface.
order2u.com® Features:
Secure access with optional Single-Sign-On (SSO)
Responsive Design with easy to use navigation tools
Ability to order digital Print-on-Demand (POD) items, customizable resources thorough our template resource platform or "off the shelf" physical items located in our distribution centers. All digital items can be distributed electronically via email or pdf download to individuals or to target lists containing many multiple addressees
Create individual custom resources through a template customization workflow
Ability to load multiple images per item for view while searching
Allocation of stock at a user or item level
Real-Time Content Control and Maintenance
International Shipping
Freight Calculator provides estimated freight charges at checkout
Recent order activity with on-line freight carrier tracking for shipments
Robust reporting and analytics options
Training Resources, Videos & Tutorials
Beginning with a basic wireframe, you can customize the application's appearance with your logos, color scheme and terminology. You can control user role access levels, featured items and landing page messaging to meet your unique business needs. A Business Analyst will be available to assist you in choosing the setup that works best.
PROMOTIONAL/COLLATERAL DISTRIBUTION
From our Worldwide Distribution Centers in New Jersey, Delaware and Colorado – we provide fulfillment and inventory management support throughout North America and the world. We started pioneering the fulfillment of marketing collateral early in the 20th century and continue to blaze trails well into the 21st.
Warehouse Management and Order Fulfillment
We employ a state of the art warehouse management system by JDA® (formerly RedPrairie®) that maximizes inventory/order visibility, agility, accuracy and throughput across the entire fulfillment operation. Radio Frequency (RF) gun technology (2D barcode) is utilized in the receipt, put-away, cycle count and order pick/pack processes. This assures all transactions are completed efficiently and correctly.
In our order fulfillment operations we utilize advanced technology throughout including:
"Cartonization" picking process where locations are scanned and items are picked direct to the shipping carton reducing cycle time and number of touches.
Lot and serial number tagging involving a serialized fulfillment stream where individual lot/serial numbers of an item are linked to the individual order for full end to end tracking, product recall and item redemption reporting.
Inventory Management
Our Web Based Inventory Management System provides the tools to support the ongoing management and distribution of your material. The system is designed to provide information at both item & warehouse levels.
Stock Categorization
Stock usage tools
Backorder control
Low Point, Out of Stock and Expired Item Notifications
Digital storage of materials and Version Control
Dual Distribution of Items from our East and West U.S. Warehouse Facilities
Systematic controls for Pharmaceutical FDA items management
Sell to Zero / Move to Print On Demand and/or Item Substitution Options
Advanced Stock Notification
Standard Reports
Our suite of reports is available electronically and can be set up to run on a scheduled or ad hoc/on demand basis.
Some our standard reports include:
Inventory Usage and Stock Status Reports
Low and Out of Stock Notification
Receiving Reports
Slow Moving Item Report
Item Availability Listing
Order Detail Report
Trend Usage
Back Order Report
Order Summary by Order Type & Definition
Warehouse Utilization Reports – Active/Inactive by item
Inventory, Order and Usage Dashboards that can be pushed or provided on-demand
DIGITAL PRINT SOLUTIONS – DDR℠
Hibbert supports a variety of in-house digital and offset print applications. For Print-on-Demand (POD) and Just-in-Time (JIT) jobs, we support short-run requests in order to provide the fastest possible time to market.
We utilize a comprehensive digital print strategy to help you identify the appropriate print channel for the greatest costs savings. We review your inventory and distribution patterns to find which items can be deployed to a digital print environment.
Hibbert employs Xerox iGen 4 Digital Print Systems, as well as additional high-speed laser print technology for all of your printing and finishing needs. We operate Digital Print & Finishing Centers in our New Jersey and Colorado locations.
DRUG SAMPLE & MEDICAL DEVICE FULFILLMENT
We provide prescription drug sample and medical device distribution services through our CGMP compliant distribution centers.
We provide secure, temperature-controlled warehouses designed to the distribution of Prescription (Rx), Over the Counter (OTC), and Veterinary Drug Samples. Hibbert is fully compliant and certified with the appropriate governmental and industry guidelines including:
FDA – Food and Drug Administration Registered – Repackager/Relabeler for Prescription Drugs
DEA – Drug Enforcement Agency Certification – Class IV Controlled Substances
CGMP – Current Good Manufacturing Process Compliant
Licensed to distribute Rx and OTC drugs in all 50 States and the District of Columbia
21 CFR Compliant Part 11 Compliant for Design/Installation/Operational/Performance Qualification
Verified/Validated System – Order Receipt/Management and Warehouse Management System
Hibbert has earned NABP's Digital Pharmacy Accreditation
Sales Reps can order samples through order2u.com®, our fully validated and certified web order management system. Our fulfillment steps include:
Lot Control
Serialization
Expired Item Management
Product Reconciliation Process
Acknowledgement of Delivery (AOD) and Acknowledgement of Content (AOC)
Returns Processing
Product Destruction
PRODUCT FULFILLMENT
Hibbert supports product fulfillment in a variety of industries. Our Worldwide Distribution Centers allow us to get your product to your customers quickly and efficiently. We handle every aspect of fulfillment from warehousing to order processing including credit card cashiering, reconciliation and reimbursement services.
Our comprehensive operations include:
Fully secure and caged warehouse facilities with camera, motion detector and fingerprint swipe access
Industry Leading Automated Warehouse Management System – JDA®
Order processing via our web portal – order2u.com®, via file feed or SAP/EDI interface from your inventory/order platform
Cashiering orders via PayPal®, fully PCI-DSS Compliant
Transportation Management
Quick and accurate order turnaround
Just a few of the products we service include:
Apparel
Hard Goods – Electronics and Hardware
Sports Industry Signed Memorabilia – including Item Authentication Services
Books and Publishing
Software
Computer Accessories
INTERNATIONAL OPERATIONS
We have established partnerships with marketing services providers in Europe and Asia providing our clients with comprehensive, single point, international support for their campaigns and programs. Our worldwide capabilities include marketing/campaign program management, digital print, in country fulfillment, product and sample fulfillment, and Clinical Trial programs. Services are ISO 9001 certified.
Our international partners are strategically located in:
Europe
Headquartered in Swindon, England with four production centers in the United Kingdom and support offices throughout Europe.
Asia
Headquartered in Shanghai, China, with three production centers in China and distribution network across the Asia PAC region.